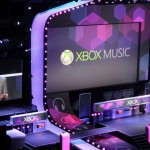 San Francisco, Oct 16  Microsoft has unveiled Xbox Music, which combines free music streaming, music subscription and purchasing into an all-in-one service.
The company said it will first roll out the service Tuesday on its Xbox 360 video game console and later in October on personal and tablet computers and smartphones.
Xbox Music will come pre-installed as the default music player for the Windows 8 operating system that is to be officially launched Oct 26, Xinhua reported Monday.
With the new service, users can listen to streaming songs for free, from a catalog of over 30 million titles, on PCs and tablets running on Windows 8.
They can also choose to pay $9.99 per month to get unlimited access to songs on various devices.
The service includes an on-line store that allows users to buy single songs or entire album on their computers or smartphones.
It also allows users to create the so-called "Internet radio" based on their favorite artists.
With Xbox Music being a cloud-based service, users can access their carefully-created playlists and play their favorite music on any device.
"There are a lot of individual services that do a good job, but today there isn't a service which can pull together the benefits of download-to-own, music subscription, or free streaming services," Yusuf Mehdi of Microsoft said in a statement.
The Xbox Music is Microsoft's new move to compete with technology giants, including Apple and Google, which have launched their own digital music services.
The Xbox Music will eventually be available on other platforms such as Google's Android and Apple's iOS as mobile applications, Microsoft said.